The opening ceremony of the European Junior and U23 Canoe Championships kicked off today. The 27 countries that will be represented in the starting list of the European Championships were presented at the opening ceremony at the Wild Water Complex in Čunovo.
The importance of the event and the status of water slalom as the most successful sport in Slovakia was highlighted by Tomáš Ondrčka, Director General of the Tourism Section, Ministry of Transport and Construction of the Slovak Republic. "Many Olympic champions have grown up on the canal in Čunovo. It is one of the most difficult water courses in the world and this event is one of the biggest sporting events in Slovakia," he added. He wished the athletes good luck for the race.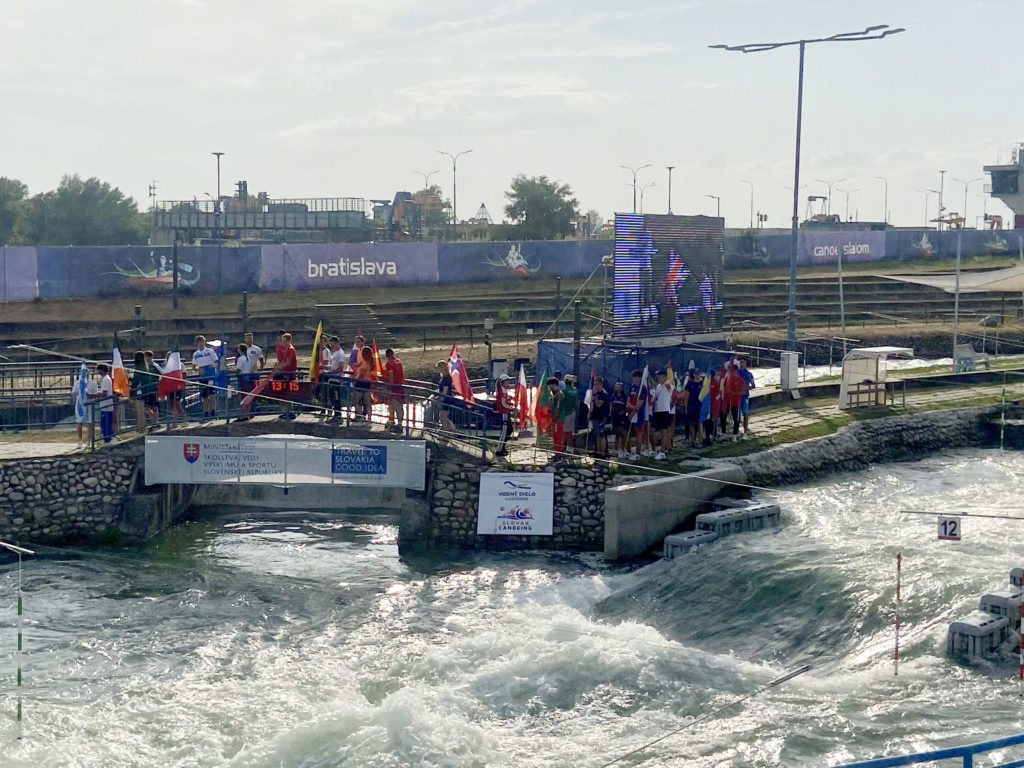 Director of the Wild Waters Section Martin Stanovský, Sr. highlighted the history of water slalom and wished the successors of Hochschorenrov, Martikán or Kaliska a successful start of their careers. "I wish that these European Championships will be synonymous with sports culture, I look forward to the spectators cheering and how this beautiful sport will once again bring us joy, excitement and emotions," said Stanovský.
President Jean Zoungrana praised the work of the championship organising team led by Martin Stanovsky, Jr. and former Olympian Jana Dukátová and officially opened the European Junior and U23 Championships with the official formula and wished a wonderful and enjoyable experience at the European Championships in Cunovo.
Tomorrow the championship starts in Cunovo with the first day of competition.
The K1 men's U23 qualification will start first at 9:00 a.m.
PROGRAMME:
Thursday 20 July 9:00 – QUALIFICATION – K1 men, K1 women
15:45 – team events – K1 men, K1 women
Friday 21 July 9:00 – QUALIFICATIONS – C1 men, C1 women
14:45 – team events – C1 men, C1 women
17:35 – Kayak Cross – timed races
Saturday, July 22 10:15 a.m. – Semifinals – K1 men, K1 women
14:00 AUTOGRAMS OF SLOVAK OLYMPIANS in water slalom
14:45 – Finals – K1 men, K1 women
Sunday 23 July 9:00 – Semi-finals & Finals – C1 men, C1 women
12:40 – Kayak Cross – Final Stages
16:00 – Closing Ceremony
Text and photo: Andy Zerer